A Culture of Excellence and Commitment
About Us
Advanced Technology, Deep Networks & Commitment to Customers
Global Link is a focused organization providing innovative value solutions and growth opportunities to our customers. We provide this through design, manufacturing, and project management of the complete process of manufacturing and supply of high quality and low cost automotive, industrial, and electronic materials, components, sub-assemblies, and assemblies.
Our company is headquartered in Ann Arbor, MI with warehousing in Chicago, IL, and other locations (additions as required). At this time have manufacturing locations in Korea and China with established logistical branches and systems in place.
Global Link has experienced rapid growth, fueled by successful program executions, sound advantages for our customers, clients, and partners, along with solid project management through the complete process.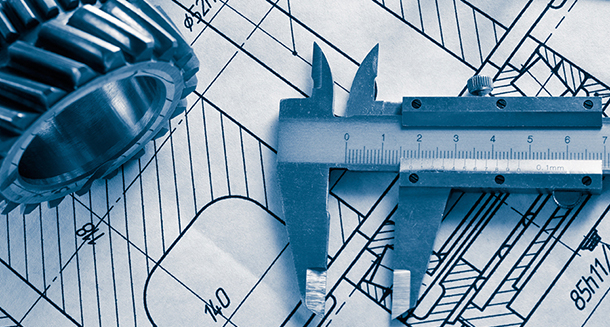 A Minority Certified Business & Support for Workplace Diversity
Global Link LLC supports the development of diversity in the workplace and also encourages minority ownership and accountability. To this end, Global Link has been certified as of 2013 by the Michigan Minority Supplier Development Council, acting under the auspices of the National Minority Supplier Development Council, as a Minority Business Enterprise. As a result, Global Link is entitled to exclusive contracts accessible for Minority Owned Enterprises.
The majority of our ownership and employees come from diverse ethnic backgrounds and we believe it adds tremendous value to the services we provide.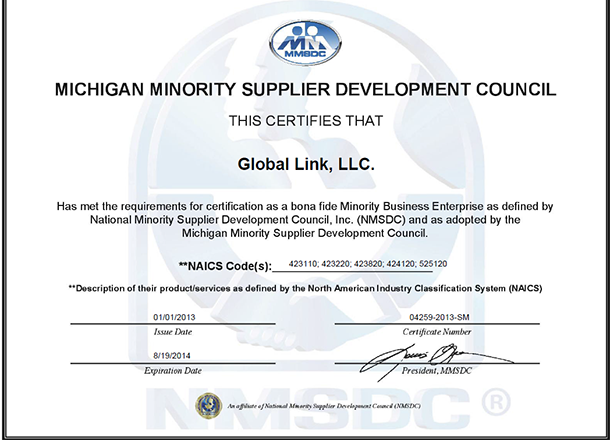 A History Rich in Experience and Technical Skill
2000 Established Global Link LLC in Michigan

2002 Acquired Exclusive Agent Rights - Ameripack, Inc, - Specialty packaging & transportation system

2003 Established Korea Branch

2004 Exclusive Agent - Bacharach Inc for Korea - Specialty detectors & analyzers for HVAC & combustion

2005 Exclusive Agent - Ritec, Inc for Korea - Specialty glass coating

2006 Established - Eastern Sky Logistics, Inc - Shanghai/China Branch

2007 Assigned Overseas Consulting firm by SBC

2009 Assigned Detroit Chapter head company of INKE (International Network of Korean Entrepreneurs)

2011 Established sister company - www.softechled.com for LED lighting business

2013 Certified Minority Business Enterprise by MMSDC (Click here for Certificate)

During this time, our organization has grown with team members, relationships, and a support network to deliver the results our customers and partners require. Our goal is to exceed expectations in timing, quality, and reliability unmatched in industry today. Other experience and accomplishment milestones are available for review, not publicized here.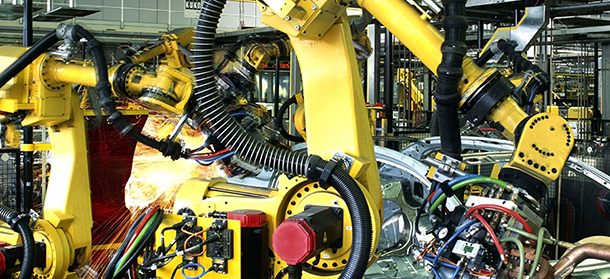 Organizational Structure
Global link is structured into multiple location, coordinated teams utilizing communications, coordination, and planning tools to manage and complete projects in the most efficient and effective manner. The customers, suppliers, and supporting organizations become part of the team to assure that we meet all expectations and leverage all available resources to capitalize on the opportunities available.
Office Locations

Ann Arbor, MI - Main Office with Administration, Finance, and Sales
Seoul Korea - Supplier Development, Logistics, and Project Support

Global Link continues to place project engineers and account/customer support team members near customers on temporary or permanent basis, depending on needs.
Production Capabilities
Our production relationships are throughout Asia leveraging the best quality, cost, and delivery systems possible. We have team members assigned to production locations to assure our expectations are continually met and we develop the next best product to provide the quality and performance our customers demand.